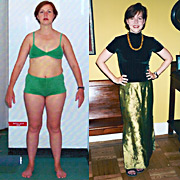 Fat loss is by far the number one desire for 99% of the clients that walk through the Serious Strength door. As many of you already know our approach to achieving fat loss is:
1. A low sugar/carbohydrate, high fat, adequate protein real food diet
2. Strength training
Simple right?
We have achieved some impressive results with hundreds of clients over the 12 years we have served NYC's Upper West Side. Just read our testimonials page and you will see. Some of our clients are very famous and wealthy people who could train anywhere in NYC they would like to but choose our little studio instead.
I recently sent out an email to all of my clients welcoming them back from their summer vacations and asking them if there was anything I could do to make their experience at Serious Strength better. Here was one response:
Fred,

I signed up for 16 sessions a few months ago and trained with Neil (as well as Shawn and Tanya for 1 session each). Bottom line, I really like all your trainers--professional, very easy to work with, great motivators. Neil was great with helping me with my diet, and low carbs definitely made me feel better overall--lessened cravings, slept better, etc. Unfortunately, 15 sessions into it, I wasn't seeing the weight loss results I expected. I cut carbs way down, didn't eat grains--even stopped eating fruit for a time--and, of course, ate a lot of protein, yet the scale wasn't budging. Neil was very honest from the beginning and told me that, in order to achieve my primary goal of weight loss, it would be largely based on a change in my diet. So, the fact that the radical change in diet didn't help me, Neil's honesty that the strength training was not for weight loss, and the cost of the sessions, I couldn't continue. There were plenty of things I did like and really wanted the sessions to work for me, but I just couldn't justify continuing to pay given my lackluster results.

I'm sure you're thinking I should have been more patient, given it more time--perhaps. But in the end, it just wasn't working for me. The good news is that I'm much more conscious of my carb intake, so thanks for that. Best of luck to you and your staff.
So like any good business owner, I freaked. These kinds of emails make me feel like I'm about to go over the top of a huge roller coaster with a hot nail stuck in my eye.
I looked at her chart which contained two Bioanalogics readouts of her body fat, lean mass, body weight and other info that helps us determine and track client results. Here's an example of mine: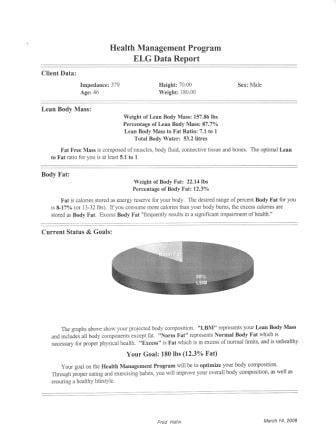 Each were a month apart. I saw that, not only HAD the scale budged, she had lost 4.5 pounds in 27 days! These are amazing results. Now the question is, why did she say "...yet the scale didn't budge." I wrote to her explaining this and that from the look of it she'd have reached her short term goal in a mere 6 more weeks.
Clearly for many people, there is a difference between what they wish to see and what they actually see. My client wanted to see much more loss even though we told her that a 1-2 pound loss of fat a week was the best anyone could hope to accomplish. To her, a 4.5 pound loss was no loss at all.
I don't know what the moral of this story is, but I do know that the story is all too common. I hope she comes back.