Well today is week three out of the hospital and thus far the recovery is going well. Swelling is minimal and on a scale of 1-10 my pain is a 2 or even less.
I am going to physical therapy now to get my range of motion back but I'll tell you, PT might as well stand for pansy treatment. I co-founded and ran a sports PT clinic from 1994 to 1996 called MetroSportsmed at NY Methodist Hospital where we treated people with conventional valid PT techniques and included a Slow Burn total body training session. People got incredible results from this approach but I guess word never got around.
As an example of pansy PT, Savannah (my PT at the clinic who is a total sweetheart by the way), after wrapping a hot pack around my knee and then giving me a deep tissue massage (that's the good part), put a bolster under my knee and asked me to extend my lower leg for - drum roll please - three sets of ten. This is known as the DeLorme/Watkins protocol. (DWP). Unfortunately the DWP is widely misused and misunderstood by virtually all PT's.
In the DWP, the first two sets are supposed to be a "warm up" for the third set. The third set was supposed to be an all out, to complete fatigue set - the one that did the job of sparking a strength/growth response. Thomas DeLorme admitted that the first two sets were just to get the patient's mind into the third set and that the first two sets were essentially useless. You might like to read Dr. Ralph Carpinelli's article MORE IS BETTER: A QUESTIONABLE CONCEPT if you are interested in or a supporter of using multiple sets of the same exercise for building strength and muscle.
Physical therapists rarely if ever ask you to work to the point of complete muscle fatigue in a single set. It's one of the reasons why most people never get much out of conventional sports PT.
Anyhow, the leg extensions are used, of course, to strengthen the quads and get them "reactivated." I told her that extending my leg using the weight of just my lower leg was extremely simple for me. So, she reluctantly reached under the table and wrapped a one pound ankle weight around my skinny ankle.
ONE pound.
"Savannah," I said, "Don't you have anything a little more challenging? This isn't going to do much to strengthen me." She looked at me with an eensy bit of disdain and very reluctantly changed it to a whopping three pounder. I said "Savannah, you know I can do a lot more than this. Let's try a ten." She refused and told me she never puts more than a five pound weight on anyone.
As I pumped out the reps as easily as can be, I noticed that a few beds down from me lie an elderly woman who was doing the same exercises as I was and who also sported the hefty three pound ankle weight on her ankle (their color coded so I could tell). C'mon now Savannah!
One thing that has really helped my knee heal is what's called a Cryocuff. It's a sleeve that fits tightly over the injured joint (in my case the knee). You attach a tube to the end of the sleeve which is attached to a thermos filled with ice water.
You raise the thermos above the sleeve and the ice water flows in providing both cold and compressive therapy. It feels good!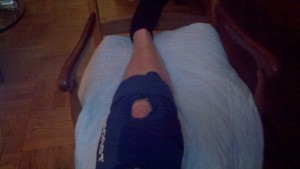 It's a little pricey ($120), but well worth the investment.
The good news is that the knee pain that brought me to my knees without taking serious painkillers is now gone.
Good riddance!